Hiring a car from Disney, Florida, can open up access to the rest of the beautiful state of Florida allowing you to really get a better, more balanced view of Florida. Disney World is a wonderful place, beautifully landscaped and every need is catered for  – at a cost. But, if you would like to escape for a while to visit natural Florida, or some different restaurants, or even the normally priced shops, then you will need to hire a car.  Alternatively, you may have chosen to have a few days in Disney World and then want to collect a hire car to continue your holiday at one of the stunning Gulf or Atlantic beaches, visit the Keys or head to a luxury villa.
Whatever your reason for hiring a car from Walt Disney World, you probably won't want to have to head back to the airport to collect your car.  We have several locations within Disney property that will allow you  to use Disney transportation to get to the location and then just collect your rental car.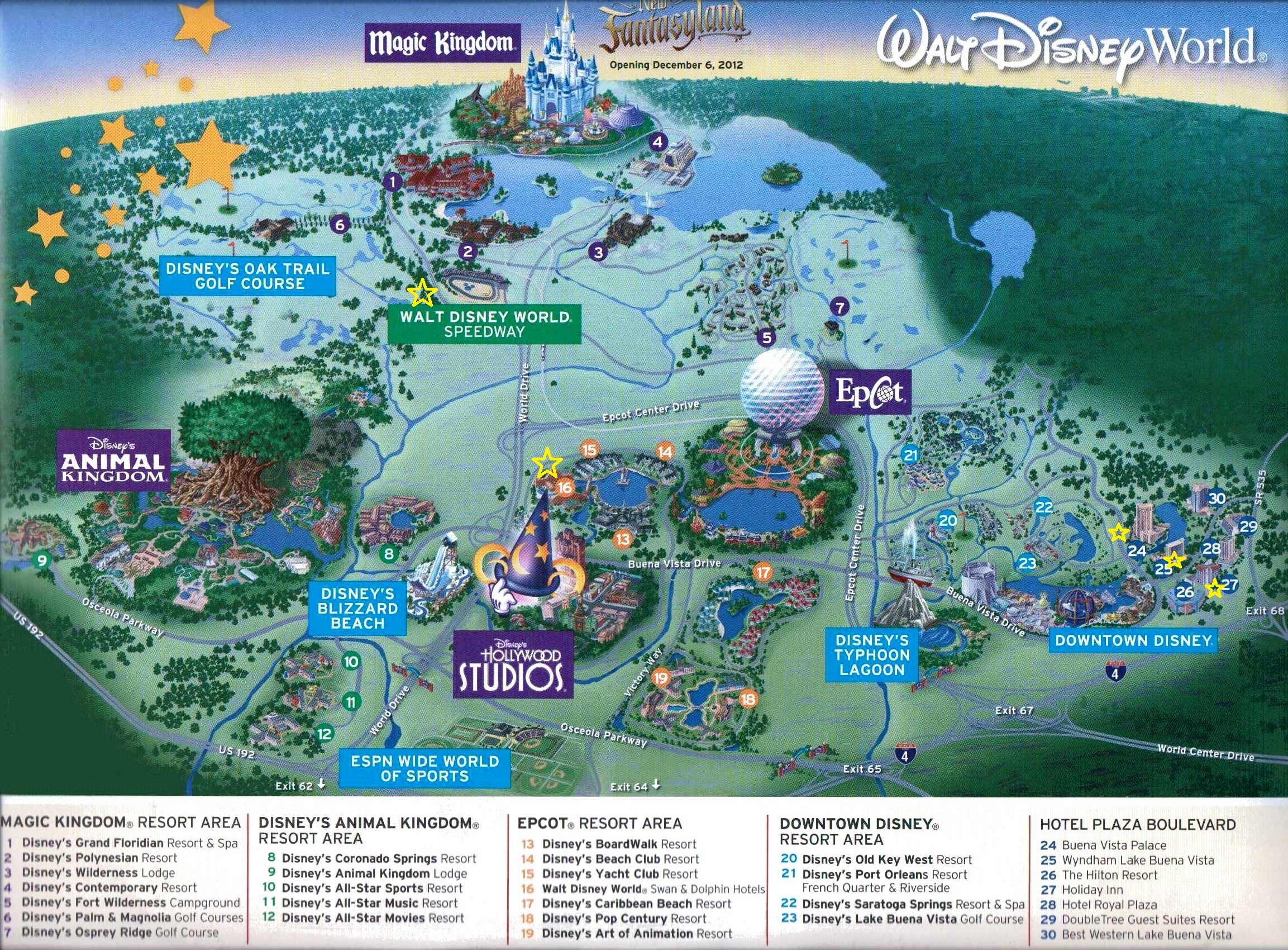 The yellow stars on the map above indicate a car hire location.  Alamo is the official car hire provider for Disney, so there is the Disney Car Care Center, right by the Walt Disney World Speedway, close to the Ticket and Transportation Center.  A shuttle service can be provided from Disney and Lake Buena Vista hotels.  This is the largest car hire location in the area (including the US 192 resort area), and will have both the choice and variety of cars from the majority of categories.  The opening hours are longer than at the hotels – the Alamo Car Care Center is open from 06.30 – 19.30.
There is another, smaller, Alamo location at the Walt Disney Dolphin Resort – accessible via Disney transportation buses – which is open from 08.00 – 15.30.  This is a useful location for those staying in the Epcot Resort area.
Over at the Lake Buena Vista hotel area by Downtown Disney there is a further Alamo location at the Buena Vista Palace hotel, a Dollar location at the Wyndham Resort hotel and another at the Holiday Inn.
All of these car hire locations can be accessed via our website: carhireteam.co.uk but if you need any help in working out which will suit you best, or be most likely to have your chosen category of car please get in touch.